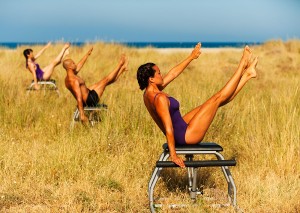 "MOVEMENT THAT HEALS… PILATES REEDUCATES MOVEMENT "

Back in 1930, Joseph Pilates developed a group of exercises in the Mat floor) and in different types of equipment designed by him. His goal was to strength the central part of the body, stretch the column, create good muscle tone an improve flexibility.
The Pilates method develops the abdominal and postural strength, so that it can act as the body's powerhouse, helping sustaining the skeletal system. A strong basis helps to relieve back pain, prevent injuries, improves posture lineament and increases the efficiency of movement.
With Pilate's method you will improve physical and esthetic shape.
PILATES EQUIPMENT
Exercises on the Mat (floor);
Equipment: REFORMER, CADILLAC, WUNDA CHAIR, as well as other complements like SPINE CORRECTOR, PED-O-PULL.
The equipment contributes to strength the body, increases movement amplitude, and by doing so, improves the balance between strength and flexibility, always respecting posture alignment.
PILATES is an excellent system or method of rehabilitation for the back, shoulders, hips, knees and ankle injuries. A holistic method aimed in the correction of body's imbalances; asymmetries, chronic disturbances, helping the recovery of injured structures and preventing them to occur again.
Classes by
Patricia Morales
Peak trainer, certified by Peak Pilates, as Pilate's instructor and Trainer
Physiotherapist specialized in sports lesions and column pathologies.
"MOVEMENT THAT HEALS… PILATES REEDUCATES MOVEMENT "